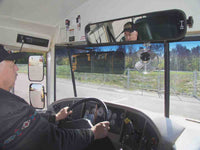 The Tiger Mirror Difference
Tiger strives to make products a step above our competition - from our USA based manufacturing to quality design to personalized customer service, we are here to serve your every mirror, visor, or accessory need.
Our company has serviced heavy equipment and motor-coach fleet vehicles since 1994. We pride ourselves on creating mirrors with "20/20" vision and no distortion - giving the driver more comfort and control during operation. With driver's in mind, we created a Sun Visor system that also enhances the operating experience. We are so confident in our products that each come with a lifetime of the vehicle guarantee.